This past year, I've been working on a project that has been some time in the making. I had been sketching options for small enclosures that could serve to better present some of my individual sculptural figures, and this summer has brought forth the first working prototype of this design.
I started with some initial sketches..
I then took a few minutes in Rhino to set up a test render, featuring the virtual model. This also allowed me the opportunity to build 3D models of the logos, which would come into play very soon.
Working with the good folks at the Cranston Public Library, I sent off the 3D files of the logo plates in the  ".stl " file format. Within a matter of days, these were successfully 3D printed in polystyrene plastic.
These prints needed a bit of fine tuning. The edges had slightly curled, through no fault of the folks at the library (humidity played a major part in this) so I took some time to use boiling water in order to gently bend these forms back to true. Following that, I used acetone and some sandpaper to smooth away the marks on the surface. At that point, it was time to prime and paint!
Much better! Now, I got to work on fitting these to the case.
The case is actually a basic clear acrylic display box sold at the Container Store, with optimal proportions for my figure.
I glued on the logo pieces, and voila!
Now came the last part. I needed a bit of a shim so that my character would sit a bit higher in the case. Believe it or not, this was actually a bit tricky on account of the tolerances. I first created a basic template that I printed out as a reference.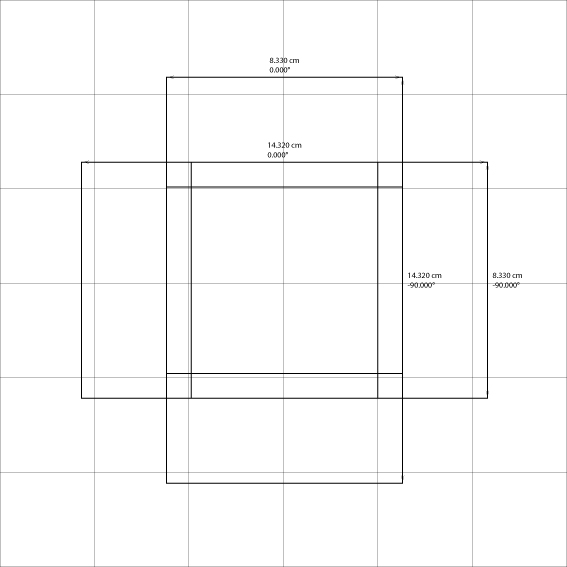 My first attempt involved a piece of cardboard that was just a nudge too snug. I then decided to play with thin, black foam core stock, which I cut to the right proportions and then beveled on the inner edges to help the folds work smoothly.
There we go. Now he has good positioning so that he can be well seen in his new home!
So overall, this was a good project. There were a few challenges involved with the various materials and the tolerances thereof, but I am quite satisfied with the results, and glad that I had the opportunity to properly experiment with some new processes.  I've already picked up another clear case for the next set of tools and modifications to play with.